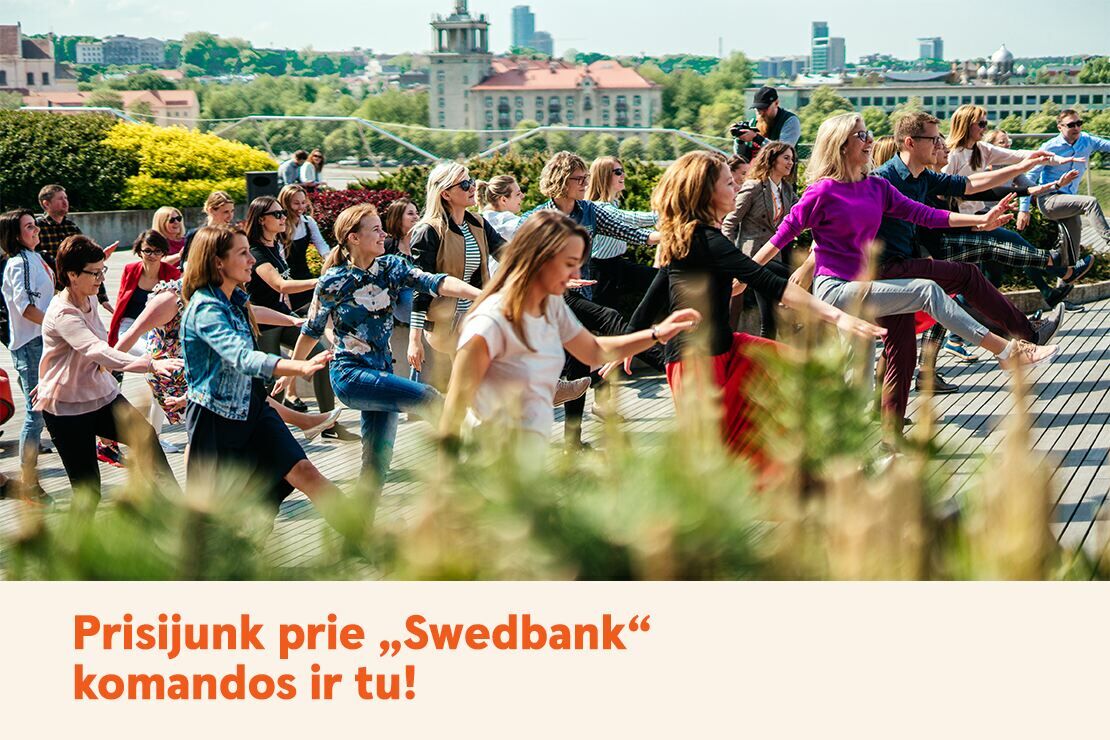 Skelbimas

Atlygis/Miestas

Apie įmonę
Are you passionate about privacy management in an Anti Financial Crime (AFC) setting?
In Swedbank you have the opportunity to:
Be the expert and lead to ensure that the processing happens in a regulatory sound way and in the best way possible for the data subjects and for Swedbank.
Lead projects at AFC and be the go-to expert for privacy related challenges, topics and developments etc
Work closely with e.g. Group Privacy, Group Compliance and Data Protection Officers (second line of defence) in cross-business privacy matters
The AFC Privacy Manager are part of the Swedbank Privacy network and you will contribute to Swedbank's general work with privacy and to promote and develop methodology etc.
AFC Privacy Manager acts in all our markets with main attention on Sweden, Lithuania, Latvia and Estonia to ensure that AFC privacy topics are covered and reinforced.
Maintain and strengthen a holistic view on privacy matters in AFC and ensure and promote local ownership of privacy processes throughout AFC
Prepare and give regular overviews and status reports to AFC Management Team regarding e.g. GDPR compliance and overall privacy status
Support in new products development (NPAP) or changing in existing ones
Support and lead privacy Risk Assessments, Data Protection Impact Assessments (DPIA), Legitimate Interest Assessments (LIA) and to ensure that Purposes are correctly represented in data processing registers, etc.
Support and lead identification of privacy risks and to design respective mitigation actions in a fast-developing anti financial crime area where Swedbank e.g. will increase use of AI and Machine Learning to enhance our anti financial crime capabilities
Support, lead and contribute to GDPR/Data Breach incident management
Ensure continuous improvement of privacy competence among AFC employees
What is needed in this role:
Previous experience in the field of GDPR/Privacy area, minimum 5 years
University degree in a related field, Master's Degree in Law preferred
Experience with GDPR in the financial sector is considered an advantage
Experience with information security is considered an advantage
Experience and capability of managing complex projects and cross business processes
Strong capability in building effective working relationships with different cross-border counterparties
Strong analytical, problem solving and critical thinking skills
Good English skills, both spoken and written
Strong team perspective and co-operation minded
Acting and working in accordance to our values; open, simple and caring
"Join our team and...

and be part of a team within AFC that have a very challenging yet attractive task. Together with our colleagues we will create and deliver robust Anti Financial Crime processes and uphold high standards within AFCs area of responsibility. To enable this, we need to build a robust Risk and Privacy Management structure that goes above and beyond to enable the AFC unit to be one step ahead. We will have to work swiftly but thoroughly, based on common understanding and trust, within our unit and the bank. If you find this position interesting, then kindly send us your CV and motivation letter in English by July 31, 2021 at the latest. We may begin the selection under the application period, so we welcome your application as soon as possible. "
We look forward to your application at the latest 19.08.2021
Location: Sundbyberg, Vilnius, Riga, Tallinn

Contacts
Recruiting manager: Jonas Kihlgren, +46730836562
SACO: Henrik Joelsson
Finansförbundet: Jessica Lööw +46 8 58 59 52 33

If you are to be employed in Latvia, please note that the salary offered for this position ranges from 3300-4900 EUR gross i.e. before taxes.

If you are to be employed in Lithuania, please note that the salary offered for this position ranges from 3500-5300 EUR gross i.e. before taxes.


We want to inform you that the selection process may begin after the summer holidays.

We have made our choice regarding recruitment media and therefore kindly decline contact with ad sellers or sellers of other recruitment services.

Swedbank does not discriminate anybody based on gender, age, sexual orientation or sexual identity, ethnicity, religion or disability – everybody is welcome.
Daugiau jūsų paiešką atitinkančių rezultatų:
Vyresnysis (-ioji) teisininkas (-ė) (Darbo teisė)

Project Manager in Fraud Management
Duomenų analizės ir verslo kontrolės skyriaus vadovas (-ė)