302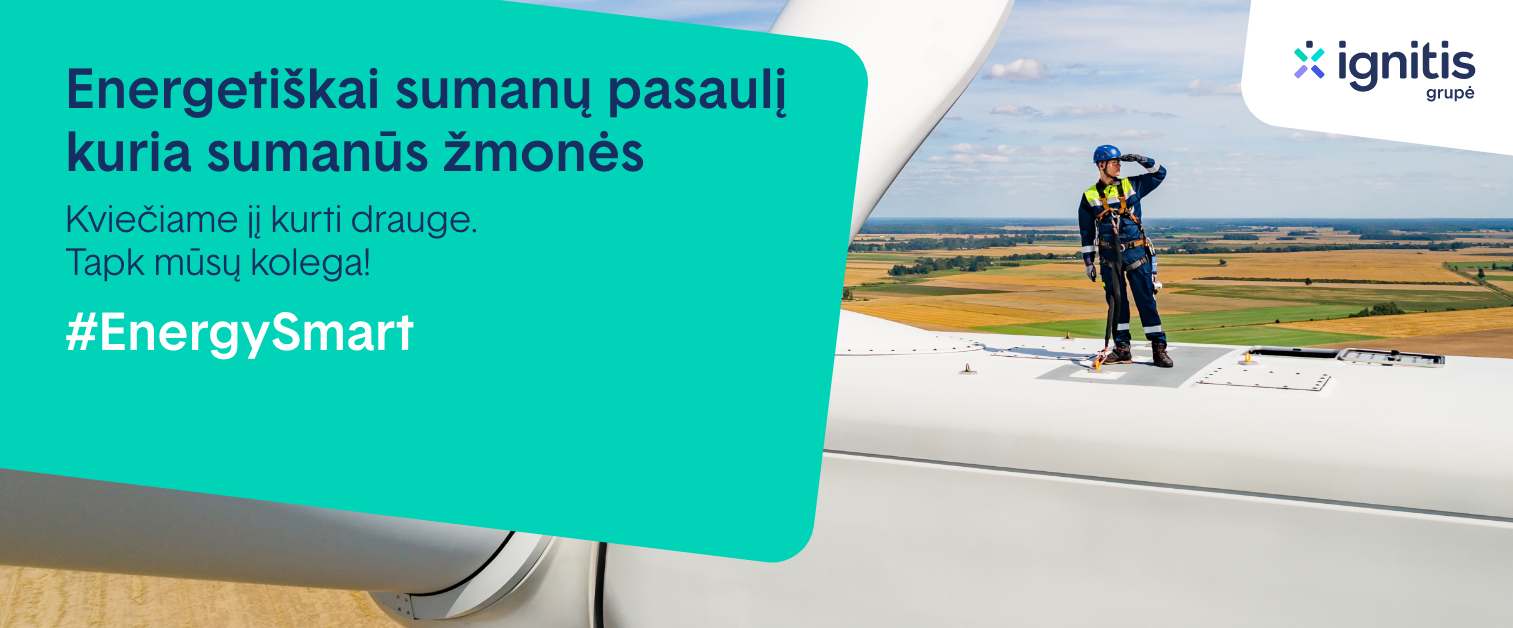 Skelbimas

Atlygis/Miestas

Apie įmonę
Do You want to be part of "Ignitis group"?
We are looking for a Business Planning Partner, who would join Group`s finance and investments team and help us with the planning and analysis processes in the Ignitis Group as well as contribute to our strategy development and implementation. We value openness, partnership is our strength, and responsibility makes us a great team. If all this speaks to you, we would like to invite you to join us.
Your key areas of responsibilities will be:
Contribute to the preparation of the Ignitis Group Strategic Plans and Annual Business Plans
Analyse actual performance results of the group and prepare internal and external reports
Coordinate the planning and performance analysis in cooperation with lots of colleagues in finance and management of the holding company and subsidiaries
Develop and maintain business performance data analysis tools and systems
Oversee the implementation of the Strategic Initiatives Portfolio
Benchmarking towards the energy companies of the region
Continuously improve the business planning and analysis processes across the Ignitis Group
We expect that You:
Have a university degree in Business management/Economics/Finance or equivalent;
Have 3-4 years working experience in business or finance planning, consulting, controlling, analysis or reporting;
Are proactive team member with high level of responsibility, result-oriented, able to to see the whole picture, but attentive to details;
Are proficient in presenting complex information in a clear and simple manner and feel comfortable interacting with stakeholders at various levels;
Have excellent command of written and spoken English;
Have excellent working skills with MS Excel and Power Point. Experience with Power BI or other analysis systems would be an advantage;
Have knowledge of project management principles or experience with the Jira system would be an advantage.
As part of our team You:
You will have the freedom to make changes and an opportunity to join one of the largest international energy group of companies in the Baltic region;
You will take up challenges unique to the sector together with a team of professionals;
You will not only observe how innovations come to life, but you will also initiate changes yourself by contributing your knowledge and experience to the projects of national importance in the energy field;
You will receive benefits package (health insurance/pension plan, possibility of remote work, flexible work time, etc).
Ignitis Group received an international Top Employer 2022 Lithuania Certificate, which is awarded to companies for applying the highest HR management standards ensuring the good working conditions and development conditions.
Ignitis Group is an equal opportunity employer where all applicants for employment are considered without regard to race, religion, sex, gender identity and/or expression, sexual orientation, age, disability or other attributes unrelated to the performance of work duties.
About us:
Ignitis Group is the largest listed company and the top energy leader in the Baltics with the aim of creating an energy-smart world. In 2020, Ignitis Group completed the largest ever IPO in the Baltic States. The company's shares are traded on Nasdaq Vilnius and London stock exchanges.
The company focuses on green energy development and is working to become a regional center of new energy competences and a leader in energy distribution solutions on the international market.
Our companies produce, supply and distribute electricity, and provide other energy services to both households and businesses. They operate in Lithuania, Latvia, Estonia, Poland and Finland, while our investments reach as far as the United Kingdom, Norway, France and Israel.
https://www.ignitisgrupe.lt/en
Daugiau jūsų paiešką atitinkančių rezultatų: