774


Skelbimas

Atlygis/Miestas

Apie įmonę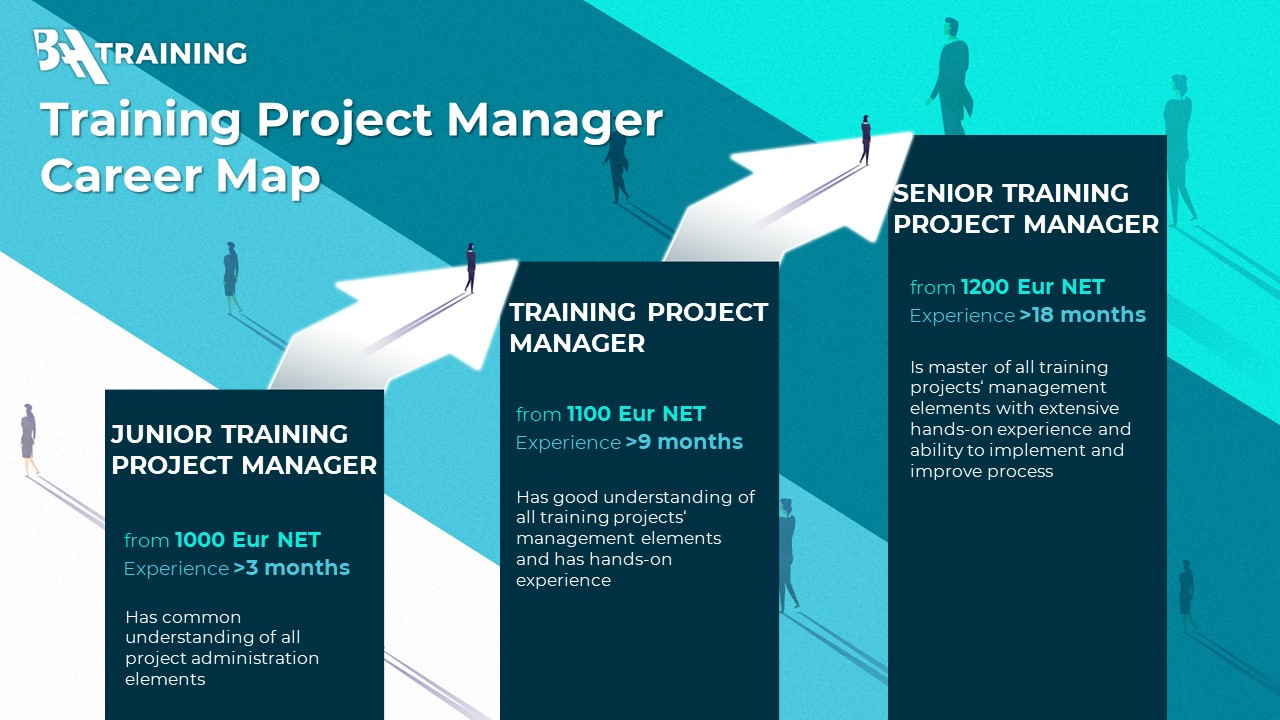 TRAINING PROJECT MANAGER
This is a great opportunity to be a part of our Training Planning Team in Vilnius, working together with team colleagues in Barcelona. You will be organizing trainings for our clients all around the world. BAA Training has offices in Vilnius, Lithuania; Barcelona and Lleida, Spain and Ho Chi Minh, Vietnam. The company is constantly growing with a further possibilities to move to any of the multiple locations and departments we have. Aviation is a very fast-paced and truly multicultural world. If you are quick on your feet, like to converse in English, like meeting people from all around the world or love aviation – contact us now!
We promise a highly challenging field and a wide scope of responsibilities, which will initially cover:
· Ensuring smooth planning and organization of aviation trainings.
· Constant communication with clients on their inquiries.
· Coordination of communication between involved parties.
· Communication and cooperation with other local and international departments / divisions of the company as well as authorities and partners.
· Providing participants with training material.
· Taking care of documentation and files according to national and international aviation regulations and requirements.
· Constant and proactive search of solutions for emerging issues and process improvement.
· Working according to approved company processes.
· Working with company's IT systems to monitor and ensure a smooth training management process.
· Participation in daily meetings based on Lean principles.
· Setting and achieving short-term and long-term goals in accordance with the company's strategic goals.
· Performing other duties and responsibilities assigned by direct manager.
We dream about a team member who:
· Has more than two years of experience in in aviation, administration, project management, training coordination.
· Has excellent skills in a Microsoft Office 365 environment.
· Is able to work independently, is self-motivated and willing to take ownership.
· Knows how to manage several complex projects at once.
· Has analytical mindset.
· Has willingness to share skills, knowledge and expertise.
· Uses English language effectively on a daily basis.
· Is flexible with good time management skills.
· Has respectful and positive attitude.
· Wants to learn every day and thinks aviation could be the love of one`s life.
What we offer you:
· A health insurance package after 3 months working for the company.
· Additional holiday days for seniority after 2 years working for the company.
· A Wellness day to take care of yourself and a Birthday day to celebrate.
· Mental gym to support your emotional wellbeing from Mindletic.
· An entertainment flight with a full flight aviation training simulator.
· Contemporary and convenient office space in a new growing AEROCITY area.
· Sport club and childcare service for your convenience.
· Public transport cover during the weekdays or parking space near the office.
· Discounts and special offers from various partners of the group.
· Extensive onboarding plan to ease your integration into company.
· An international and multicultural environment in vibrant industry with plenty of challenges to achieve.
· Personal growth possibilities if you are eager to progress in your career, we have a bunch of examples to share.
Please feel free to apply to any of the above career options and we shall discuss the requirements based on your experience.
Mėnesinis bruto atlyginimas
Bruto/mėn.
  € 1653
Vietovė
Vilnius, Vilniaus rajonas,

Lietuva



Kontaktinis asmuo
Anastasiia Donska
+37063061521
"BAA Training" – vienas iš TOP 3 didžiausių nepriklausomų aviacinių mokymų centrų Europoje, teikiantis pilno spektro aviacinių mokymų sprendimus privatiems ir verslo klientams. Šiandien jau dirbame su klientais iš 96 šalių ir toliau augame įgyvendindami ambicingus plėtros Europoje ir Azijoje planus. Mūsų kasdieninė misija – užtikrinti aviacijos bendruomenę aukšto kvalifikacijos aviacijos profesionalais.
Daugiau jūsų paiešką atitinkančių rezultatų: